Drakkar Ltd Wins USAID Grant to Implement Literacy Project in Rwandan Primary Schools
Tuesday, September 18, 2012
International Literacy Day was celebrated on September 7. Out of 450 applicants, USAID awarded grants to thirty two winners for its "All Children Reading" Global Competition, aiming to recognize innovative projects to advance reading and literacy. Drakkar Ltd, from Rwanda was one of the winners!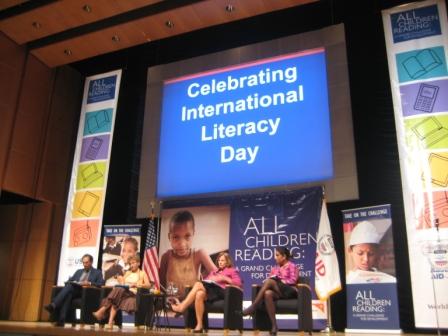 The Project Innovation
Drakkar Ltd was awarded for its breakthrough "Improving Reading and Writing Capacity in Primary Grades" program - a twenty-month initiative starting in October. Building literacy in the native language is essential yet Rwandan schools are lacking materials written in Kinyarwanda.
As a solution, Drakkar Ltd is cooperating with Pearson to distribute 60,000 storybooks from the Junior African Writers Series in Kinyarwanda to over 300 primary schools in the Southern Province. Teachers in these schools will be trained on how to use the books to teach reading strategies, and thus increase reading and writing fluency.
In addition to working with primary schools, Drakkar Ltd will also launch a national writing competition for children's stories written in Kinyarwanda. Finalists will be selected to attend a writing workshop given by notable African authors.
Pearson has agreed to publish the six best stories—three by children and three by adults – of the competition. This innovative project thus ensures that new stories for children – written in Kinyarwanda by Rwandan authors – become available on the national market.
"I have just returned from Washington DC where our project was presented as part of the winners of the USAID funded All Children Reading Grand Challenge for Development" says Drakkar's Managing Director Lydie Hakizimana. She continues, "we are very happy to have received this grant and now we look forward to start working on increasing the reading and writing skills in primary schools in Rwanda".
Literacy in Rwanda
Reading skills build the foundation for all future learning, and it is proven that people who can read enjoy better health, make more money, and serve their communities more effectively. And yet in sub-Saharan Africa, a child with five years of education has a 40% chance of being illiterate. A leading international assessment indicates that low-income countries are performing in the bottom 5th percentile in the world in learning outcomes.
The Ministry of Education and the Rwandan Education Board recently launched the Rwanda Reads Initiative – a four-year program aimed at creating a culture of reading in Rwanda. This one-of-a-kind initiative aims to increase the literacy rate to 100% by 2020.
An all-encompassing educational effort, Rwanda Reads provides new materials for schools, innovative teacher training, mobile libraries, improved reading curriculum, and a school mentorship program.
Representing Rwanda on International Literacy Day in Washington, D.C., Dr. Joyce Musabe of the Rwandan Education Board noted: "a nation can't be developed without its human capital being well-equipped, and reading is one of the ways to achieve it"!
Drakkar Ltd's project will serve to reach Rwanda's vision and is one step in the right direction.
The project was also publicized in Igihe.com, read the article here.
To read more about All Children Reading check www.allchildrenreading.org.